We take care of your abstracts
Full Service Abstract Management: Setting a New Standard
psAbstract is a leading abstract management system, used by the largest conferences in the world, allowing the online submission and reviewing of complex, scientific abstracts.
We recently launched a new generation of systems, including our new submission and reviewing systems which are setting a new standard for functionality and user friendliness. Both systems are completely mobile responsive allowing the submission and the review of abstracts on a mobile phone.
Our full service concept is a perfect fit for small, medium and large sized abstract handling projects and our systems are unique in terms of functionality, flexibility and service provided. You send us the topics, the customizations you require, and we handle the rest.
This eliminates the risk of hidden costs. 
We provide you with a flexible and leading abstract submission and reviewing system, customised to your needs, hosted on our servers.The submission system can be directly linked to the congress homepage and customised with banner graphics to match your conference design, for seamless integration with the 'look and feel' of the congress.
Our service takes care of  the communication involving submitters and reviewers. 
We perform an automatic and customizable abstract allocation to reviewers, as well as the production of all documents and reports you may need for the abstract selection and publication. The submission and reviewing processes will be monitored using real-time statistics and live reports, to ensure a smooth submission and reviewing process.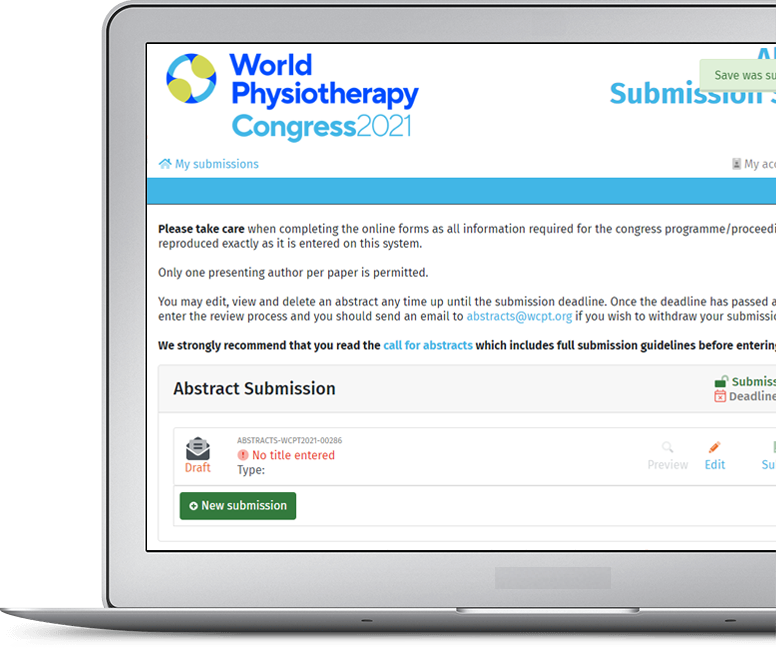 New features in 2020:


Mobile responsive systems
Flexible branding, layout and design
Reach several submission systems under one hyperlink
Copy & paste pictures and tables from MS Word
Supports upload of several file formats (pictures, videos, etc.)
re-open and changes to submitted abstracts are possible before deadline
proof reading: check/correct layout and format of each accepted abstract
single sign on: connect your submission system to a congress profile or registration system
reviewer invitation email including login/password
automatic allocation of abstracts to reviewers according to topics
flexible score sheet, multiple scores per abstract, etc
automatic abstract submission notifications by email
removal of duplicate submissions
online abstract submission and online reviewing statistics
"Around 4500 delegates are invited to our scientific congress. Since 2011, pharma service has supported our program planning, online visualisation of scientific content, abstract submission and review process. Pharma service is always reachable, efficient, solution-oriented and flexible. They have proven to be a very reliable business partner, which we can recommend. From technical support as well as with regard to personal support."